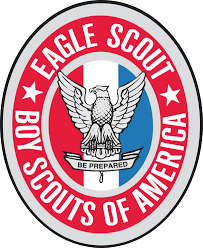 TROOP 110
LIFE to EAGLE

The Value of Being an Eagle Scout
(NESA Video)
LIFE SCOUTS - In attaining the rank of Life Scout, you have had the opportunity to learn and master many skills. You've hiked and camped in good and not-so good conditions. You've learned to take care of yourself and others in all types of conditions. You've learned what it takes to be a good citizen in your community. You've now set your sights on the highest rank in Scouting - Eagle.
You may have looked at the requirements for Eagle and are wondering what do I do next? Who can I call? Where do I go to get those many questions I have answered?
You have taken the first step in getting all your questions answered and getting some of the tools you will need to get the job done by attending the Life to Eagle meeting. You will also find this web page very helpful as you work toward Scouting's Highest Honor - The Eagle Scout Award.
The most concerning and most vague requirement for the Eagle Rank is the Eagle Scout Leadership Service Project. To add to the confusion different Councils, different Districts, and different Troops have different ideas as to what makes up a good project. Here we will be discussing the two main parts of this requirement and provide you with a number of tools to help you be successful in overcoming any obstacles you might encounter.
Your Friend in Scouting,
Bill Westcott, ASM
Life to Eagle Advisor

New Eagle Scout Service Project Workbook
A new version of the Eagle Scout Service Project workbook is available at http://www.scouting.org/scoutsource/BoyScouts/AdvancementandAwards/EagleWorkbookProcedures.aspx
There are several changes in the new workbook. Life Scouts currently working on their projects may continue to use the old version. New projects require the new version.
YiS
Bruce Schlobohm
MP District Advancement Chair and email list coordinator

Eagle Scout requirement changes effective January 1, 2014 *New Scout Handbook in 2013
Effective January 1, 2014, two changes to Merit Badge requirements for Eagle Scout
1) Cooking MB will be added as an Eagle required merit badges. The total number of merit badges required for the Eagle Scout Award *will remain at 21*. In other words, instead of 12 Eagle-required badges and 9 elective badges, a Scout must earn 13 Eagle-required and 8 elective badges.
2) A new MB - Sustainability will also be an optional alternate to Environmental Science effective January 1, 2014 Sustainability MB will be introduced at Jamboree in 2013.
More info -
http://blog.scoutingmagazine.org/2012/10/17/cooking-sustainability-merit-badges-to-become-eagle-required/
NOTE: If a Life Scout had already started work toward Eagle rank before January 1, 2014, using requirements that were current before January 1, 2014, he may switch to the new requirements, or continue with the old requirements. After January 1, 2014, you must use the requirements as they are presented in the *Boy Scout Handbook* (34622) or in the *Boy Scout Requirements* book. Source: The *Guide to Advancement,* in section 4.0.0.1
NOTE: Look for a new Boy Scout Handbook to be issued in 2013.
YIS
/s/ ron fong
Changes to Eagle Scout Service Project, Requirement 5, Beginning in 2012

National has reworded Eagle Requirement #5 thus changing the Eagle Scout Project Workbook. The changes will become permanent on January 1st, 2012. All scouts who have begun using the old workbook (issue 2009) before the 1st can continue using it or can use the new workbook (issue 2011) if desired. However, if using the old workbook, the proposal must be submitted for approval to council (or District) before the 1st, otherwise, you will be required to use the new workbook. If your project has already been approved prior to the 1st, just continue with the project as is. Please visit http://www.scouting.org/scoutsource/boyscouts/advancementandawards/resources.aspx for more information on the changes. The revised requirement 5 is listed in the new workbook and in the Guide to Advancements, No. 33088, section 9.0.2.0 through 9.0.2.15.

Yours In Scouting,

John Gillen
Troop 110, Committee Chair

*** All Eagle Candidates in our council who have begun their proposals in 2011 using the 2009 printing of the Eagle Scout Service Project Workbook will be allowed to continue using it past the January 1st deadline. This is because there are presently too many scouts using the old workbook and not enough time for them to complete their proposals by the deadline. -- John Gillen
---
Troop 110 Eagle Advisors | Helpful Web Sites | Eagle Scout Rank Requirements
Service Project Workbook | The Leading Edge | Eleven Points of Leadership
Sample Eagle Project Write-up | Paperwork & More Paperwork | SFBAC Honor Wall
---
Troop 110 Eagle Advisors

Bill Westcott
2409 Farrol Ct.
Union City, CA 94587
510-489-1209
besewest@aol.com

Bruce Chan
413 Appian Way
Union City, CA 94587
475-0667
bacla@sbcglobal.net

Mike Magno
5334 Matthew Tr.
Union City, CA 94587
510- 792-9168
mtnmike110@yahoo.com

Merle Nygren
MP District Advancement Chair
1048 Bedford St.
Fremont, CA 94539
510-651-5972

Troop 110 Merit Badge Counselors
See Members Area
(password required)
---
There are over 100,000 websites dealing with the rank of Eagle or related subjects. The following sites are a few of the most helpful.
Be active in your troop and patrol for at least six months as a Life Scout.


Demonstrate Scout spirit by living the Scout Oath (Promise) and Scout Law in your everyday life.


Earn a total of 21 merit badges (10 more than you already have), including the following:

a. First Aid

b. Citizenship in the Community

c. Citizenship in the Nation

d. Citizenship in the World

e. Communications

f. Personal Fitness

g. Emergency Preparedness OR Lifesaving - You must choose only one of these two merit badges. If you have earned more than one of the badges listed, choose one and list the remaining badge to make your total of 21.

h. Environmental Science

i. Personal Management

j. Swimming OR Hiking OR Cycling - You must choose only one of these three merit badges. If you have earned more than one of the badges listed, choose one and list the remaining badges to make your total of 21.

k. Camping

l. Family Life

While a Life Scout, serve actively for a period of six months in one or more of the following positions of responsibility:

Boy Scout Troop

Patrol leader
assistant senior patrol leader
senior patrol leader
troop guide
Order of the Arrow troop representative
den chief
scribe
librarian
historian
quartermaster
junior assistant Scoutmaster
chaplain aide
instructor

Varsity Scout Team

Captain
co-captain
program manager
squad leader
team secretary
Order of the Arrow troop representative
librarian
historian
quartermaster
chaplain aide
instructor
den chief



While a Life Scout, plan, develop, and give leadership to others in a service project helpful to any religious institution, any school, or your community. (The project should benefit an organization other than Boy Scouting.) The project idea must be approved by the organization benefiting from the effort, your Scoutmaster and troop committee, and the council or district before you start. You must use the Eagle Scout Leadership Service Project Workbook, BSA publication No. 18-927B, in meeting this requirement.


Take part in a Scoutmaster conference.


Successfully complete an Eagle Scout board of review.
NOTE: All requirements for Eagle Scout must be completed before a candidate's 18th birthday. The Eagle Scout board of review can be held after the candidate's 18th birthday.
If you have a permanent physical or mental disability you may become an Eagle Scout by qualifying for as many required merit badges as you can and qualifying for alternate merit badges for the rest. If you seek to become an Eagle under this procedure, you must submit a special application to your council service center. Your application must be approved by your council committee on advancement before you can work on alternative merit badges.
Source: Boy Scout Requirements, #33215E, revised 2002

---

Eagle Scout Leadership Service Project Workbook - Once you have earned the Life Scout rank and are ready to begin your Eagle Scout leadership service project, the workbook will help you plan and record your progress and complete and submit a final report.
---
LEADERSHIP TOOLS: THE LEADING EDGE™
Effective leaders nearly always have more than one leadership style. A key to good leadership is to match the style of leadership to the people and the situation. A powerful tool for choosing the right leadership style is the Leading EDGE™. The letters EDGE stand for Explain, Demonstrate, Guide, Enable. These are general scouting leadership tools and prospective Eagle Scouts should utilize these concepts in preparing, recruiting and carrying out your Eagle Service Project.
Troop Leadership Hints - The Leading EDGE
Shared values are a foundation of any team. The Scout Oath and Law are expressions of the BSA's values. Rely on them as you are making ethical choices in troop leadership.
Offer a vision of success. The troop's annual program plan is a blueprint for exciting activities and outdoor adventures. Use it to focus Scouts' energies and enthusiasm.
Recognize achievement differences. Some Scouts learn and advance faster than others. Give additional assistance to Scouts taking more time to learn skills and to gain Scouting experience. Offer advanced Scouts added responsibility and leadership positions.
Model ideal behavior. Demonstrate yourself the kind of behavior and achievement you expect from everyone in the troop. Be what you want them to be. Have high expectations for yourself, and expect the best in others.
Acknowledge differences. Look for ways to draw on Scouts' individual strengths to the advantage of the entire troop. Develop trust by keeping the interests of the troop members in mind.
Make meetings count. Get outdoors and have adventures. Working through the patrol leaders' council, develop an exciting program, then carry it out.
Respect and value others. Help each Scout feel that he has something important to contribute to the success of his patrol and troop.
---
PUT THE LEADERSHIP IN YOUR SERVICE PROJECT
Mr. Randall Smith, in his Eagle Scout Leadership Service Project Planning Guide outlines many of the key elements needed to prepare and plan a service project. He however fails to address a important factor in your planning and project write-up. Remember the requirement for the project, "While a life Scout, plan, develop, and give leadership to others in a service project... " You are selecting a project to lead, not to do. It is helpful to remember when you talk about your project to use the phrase "I am going to lead a group of interested individuals in the completion of my service project " not "I am going to do a service project."
There are many sources of leadership information, but I find the Eleven Points of Leadership as outlined by the Brownsea-JLT Handbook to be clear and easily applied to the write-up and planning of an Eagle Service Project. Another reason is that most Scouts within our Troop who have reached this level in Scouting have attended Brownsea-JLT and are familiar with this format. The Eleven Points of Leadership are listed below for reference in preparing your project write-up. Following the Eleven Points is an example of an actual Eagle Project write-up showing how they can be used.
Remember, to have a well prepared and well planned service project you need to detail all elements of your project. Your benchmark in preparing your write-up is that it should be in such detail, that your project plan could be given to another Scout or individual and he could successfully complete the entire project doing only what was written in the Project Plan.
BROWNSEA LEADERSHIP SKILLS (Eleven Points of Leadership)
1. Knowing the Resources of the Group
Who is good at teaching what
Who do which scouts respect and trust
Who can teach you what you are weak at
What hobbies do scouts have
Who is good at settling arguments
2. Communications
Taking Notes
Expressing yourself to-get your point across
Making certain you have the correct information
Carrying information to and from your people
3. Knowing the Needs and Characteristics of the Group
Which Scouts are quiet
What do the Scouts want out of Scouting
Which Scouts are athletic
Which Scouts need what advancement
Which Scouts are hyper
4. Representing the Group
Do you find out what the group liked and dislike about an event
Do you take the group aside to find out what it truly thinks (without adults)
Do you balance the needs of old and new scouts in the group equally
5. Controlling Group Performance - This does not mean sifting on them
Observing (available to see that the job gets done)
Instructing (give the minimum amount of instructions to get the job done)
Helping (getting in to get the job done, taking a positive approach)
Inspecting (know what you expect to see; help others to discover their own errors)
Reacting (praise for good work; accepting some responsibility for jobs not completed; taking job as a whole, not just one item)
6. Effective Teaching
Show the Scout there is need to know the subject or he doesn't know it
Show him how to do it; Let him do it
Evaluate if he knows what was supposed to be taught
Go back if he does not
7. Evaluating
Do I spend time to see how things are going
Do I ask others for their views
8. Planning
Consider the tasks, resources, alternative
Put plan into action
Make a written plan
Evaluate
9. Sharing Leadership - Uses the following 4 leadership styles at the right times
Telling (ordering people around)
Persuading (selling people on an idea or plan)
Consulting (asking others in the group what they want to do)
Delegating (having another person do the job)
Remember that authority can be shared but not responsibility
10. Counseling
Do you listen to people and let them make their own decision
Do you draw what the real problem is out of people by asking questions and listening
11. Setting the Example - Too many examples to be complete but includes
wearing the uniform correctly
being the first one up, help do some tasks that others hate
follow-up on commitments, taking the initiative and do the job
Attitude, Attitude, Attitude!!!
being quiet when others have the floor
count up to 10 backwards when you lose your temper
-------- SAMPLE EAGLE PROJECT WRITE-UP --------
Looking Back on the Project
I feel that I did a pretty good job of meeting most of the objectives I set for myself when I began the project. On some I felt somewhat slow, but I continued to work on them and they each became a learning experience.
Communication
Before each work party I called the patrol leader or SPL and asked them to call the boys in their patrol/troop. I tried to suggest dividing the telephoning among other members of the group.
Knowing and Using the Resources of the Group
I asked Paul Krogh, a draftsman, to help me draw up the plans. I asked Phil Sage, a machinist, to help design sturdy yet easy-to-build leg-braces.
Evaluating
When I found that I had design problems I had to reevaluate the design and make changes.
This report is my final evaluation of the project (problems and solutions).
Planning
I made a timeline, but it was dropped when some items took longer than expected.
Setting the Example
I feel that I was involve as much as I could be during each work party. Sometimes I was much more involved than other times, but that was due largely to how much I had to explain or help.
Understanding the Needs and Characteristics
I assigned the heavy-duty jobs like digging and using power tools to the older guys. For the younger guys, I had them mix concrete and nail. I gave jobs that were important and that fit the character.
Sharing Leadership
I asked the patrol leaders or older guys to take charge of different tasks like showing someone else how to do something, or building a bench.
Representing the Group
Richard and I went before the Brookvale PTA and gave the best presentation that 15-year-olds could give.
Effective Teaching
I taught the group safety and proper use of power tools. I'm sure that this will be able to be applied outside of scouting and later in life.
Controlling the Group
For each work party I tried to only invite the amount of people that I had jobs for.
Counseling
I earnestly tried to take each suggestion to heart to help improve the project
This project was a valuable object lesson for me, I learned how difficult it is to actually gather a group. In the future, I will remember to confirm commitments and then also remind a few days before. I also learned how hard it is to keep people busy and assign Jobs to the right people. Often I had different age groups working on the project. The first year scouts required short jobs that could be quickly completed. The older guys could be given the more complicated jobs of putting the benches together. It took me a few work sessions to grasp this concept. When I finally did, the project ran much smoother. I have learned that the beauty of construction doesn't come easy. It takes hard work and patience. If I were to do it differently, I would have made the project much more simple. Maybe with more experience I could focus on how intricate it is.
There were a few time periods during the project when not much work was done. During these times I was heavily involved with school activities. During my Junior Year I was class president and the previous year I was chairman of a group of schools that got together to exchange ideas. In addition to the Student Council activities I played sports in all three seasons. Each of these activities greatly cut down the amount of time I could spend on the Eagle project. I wasn't messing around, but instead being an active member of the school community.
---

PAPERWORK, PAPERWORK, AND MORE PAPERWORK
(updated 11/2/06)
While the requirements for the Eagle Scout Leadership Service Project are somewhat vague, the paperwork needed for turn in has been specifically laid out. Please prepare your paperwork according to the following instructions. Failure to do so may result in a delay in the scheduling of your Eagle Board of Review.
Eagle Rank Paperwork Submission Instructions
When submitting Eagles to council for your board of reviews, please use the following procedures stating what is to be submitted in order to expedite the process:
Original (two sided) Eagle Scout Rank Application
One copy of "Statement of Ambitions" (Requirement 6)
Two photo copies of the Eagle Scout Leadership Service Project Workbook (please omit the instruction pages). If additional paper is needed to answer questions from these pages, please attach them to the back of the copies of the project workbook pages.
Please staple or paper clip copies. DO NOT put in binders, jackets, etc. DO NOT include divider sheets or section cover sheets. Copies of photos, bills, letters, etc. are not to be attached. You need to take these, together with your Original Project Workbook, with you to your board of review.
Please DO NOT have reference letters sent to the council. They are to be directly mailed to the Eagle Coordinator of your district. Failure to do so can cause delay in your board of review.
PLEASE REMEMBER ... After you have had your board of review, the Original Eagle Scout Rank Application and Advancement Sheet, both affixed with appropriate signatures, need to be turned in to the council so it can be submitted to the National office in order to receive your Eagle status and credentials.
Turn in all paperwork to:
San Francisco Bay Area Council, BSA
1001 Davis Street
San Leandro, CA 94577-1514
ADVANCEMENTS

If you receive a copy of your advancements on file with the council and anything is missing or incorrect, please submit a copy of missing or corrected rank(s) and/or merit badge(s) with dates earned to the registrar and it will be updated. DO NOT fill out a duplicate advancement sheet. If you want a copy faxed to you after the corrections have been made, please leave a message with the Eagle applicant's name, unit number and fax number and it will be sent to you.

I am hoping this helps to clear up any misunderstandings.

If you have any questions please do not hesitate to call Georgi Zipse, Registrar, at 510-577-9000, Ext. 153. THANK YOU!
After completing your Eagle Board of Review, please prepare the following copies for our troop archives:
Copy Eagle Scout Application with both sides properly filled out.
One copy of Requirement #6: "Statement of Ambition."
Copy of the complete "Eagle Scout Leadership Service Project" including copies of all pictures, emails, thank you's, etc.
---
Eagle Scout/Silver Award/Quartermaster Honor Wall
Youth Leadership Training Center, San Francisco Bay Area Council BSA
The San Francisco Bay Area Council is now accepting color 8" X 10" glossy photo portraits of our recent recipients of the Eagle Scout, Venturer Silver, and Sea Scout Quartermaster Awards to be displayed at the new Youth Leadership Training Center in San Leandro.
All photos should be of the Scout or Venturer in a BSA uniform wearing the award medal, with the recipient's name and unit number listed on the back. Photos will be displayed for 6-12 months, and then added to the permanent BSA high honors file at the Youth Leadership Training Center.
Mail or deliver photo to:
Eagle Recognition Wall
San Francisco Bay Area Council BSA
1001 Davis Street
San Leandro, CA 94577-1514
Opportunities for Scholarships and Special Recognitions
New Eagle Scouts are eligible for Scholarships through the National BSA Council, as well as several local organizations. Please review the information enclosed with your Eagle Scout Certificate. Additional copies of the National Eagle Scout Scholarship Application are available at the Youth Leadership Training Center.
Eagle Scouts are eligible to earn Eagle Palms if they are still under the age of 18, and satisfy requirements for additional merit badges and satisfactory participation in the troop/team/crew.
New Eagle Scouts are encouraged to become a member of a Venturing Crew and/or Sea Scout Ship to enjoy the high adventure activities offered there. Venturers are encouraged to work toward the Silver Award which is the highest honor in Venturing, and Sea Scouts can progress through the requirements needed to achieve the highest Sea Scout honor of Quartermaster.